Lately I've seen a lot of people blogging about painting rugs so I thought I'd give it a try. I was still a bit skeptical about the results so I decided to buy a cheap rug and see what I could do. I found an indoor/outdoor rug on Home Depot's website for around $15 so I wasn't worried about wasting too much money if I ruined it. It for sure is nothing fancy, I think I read somewhere that it was made from recycled plastic!
Here you can see it a bit closer. It has a slight hobnail texture:
When I first thought about painting a rug I thought a stenciled pattern would be neat but I had second thoughts so I settled on a simple stripe pattern. We have a small dining room and I thought an intricate pattern might make the room look too busy ......... and stripes would be much easier to paint! I laid out the rug in our living room (my work space) and got ready to measure and tape out my stripes. Well, since my rug had a felt like texture the tape would not stick! So I decided to use a cardboard edge as my guide and move it along as I went. The rug had a somewhat striped texture so I would just follow the texture for painting my stripe. I quickly found out that painting the stripes by hand would take FOREVER so I gave up that technique and thought I would try spray paint. As I said before it was a cheap rug so I was willing to try anything.
So this time I moved to the backyard, I refrain from spray painting in the house :o) I used some long paper to mark out my stripes and then got to work painting. It was still somewhat slow going as I would measure one stripe at a time, paint, then move on to the next stripe. After about an hour of work I got through a bit over half the rug. It was starting to get a bit windy so I called it a day.
Things were looking pretty good so I was optimistic. In some spots along the stripes there was a tiny amount of over-spray but nothing super noticeable. Brian helped me the next evening and the painting went much quicker having some one to help me measure and readjust the paper guide. After letting it dry for a bit we moved it into the dining room and we both thought it looked pretty good. Brian admitted he was skeptical when I first mentioned my rug painting plans but was impressed by how it turned out. See, he should trust my instincts more .................. or maybe he's seen my instincts in action before and that's why he was skeptical :o)
The stripes are not too drastic but enough to provide some interest. Here's a few more pictures of the rug from different angles:
Not bad, huh?
Overall I think it turned out quite well. The painting might have worked a bit better on a something like a sisal rug where the weave is tight with longer fibers. But for a $15 rug and a few cans of spray paint it looks pretty good.
The rug we had in the dining room was moved to the living room to replace our dark blue braided rug to lighten things up. It seems like our goal in every room is to lighten things up a bit. I guess that comes with having a small house and painting a lot of rooms with bright colors :o)
So I'm here to confirm what I've read on other blogs, it is possible to paint a rug!
Linked to: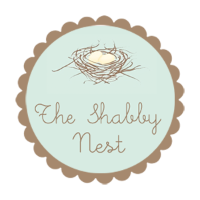 Blue Cricket Design
Creations by Kara